Join us on a virtual tour of Gettysburg Battlefield. This photographs were taken by Linda Walcroft on a tour of this famous Civil War battlefield that was part of a history course offered by Northern Virginia Community College. Our leader was Professor Charles P. Poland.
The battle took place July 1st-3rd, 1863. Robert E. Lee had brought the Army of Northern Virginia into Pennsylvania hoping for a victory on Union soil. He was not planning to fight at Gettysburg, but once the battle started, it built up into a bloody confrontation that took many casualties.
Much of the battlefield has been preserved as a National Military Site. Monuments and tourists are everywhere. The landscape retains it's hilly topography and many of the landmarks are little changed since the battle.
| | |
| --- | --- |
| page 1 of 3 | |
Below are 3 rows with 4 images each. If you cannot see four pictures across, we recommend that you expand your browser window.
To see a larger version of any photo, just click on it. Or click here to page through all the Gettysburg Tour pictures, including some which are not shown in the thumbnails.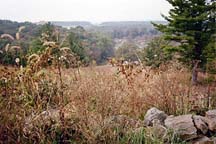 Photos taken by Linda Walcroft, October 2004

Comments?
Return to top of Page