Use the arrows or click on the picture to navigate through the tour.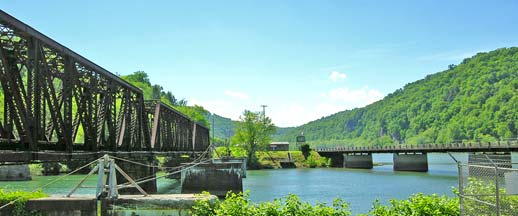 The railroad bridge on the left is approximately on the site of the covered bridge that was destroyed during the Civil War.
Bridges at Gauley Bridge, WV
Confederate General Wise became frustrated with pro-Union sentiment at Charleston and left for Gauley Bridge. Pursued by Cox, he abandoned Gauley Bridge also. He said the withdrawal was not a retreat, it was a "retrograde."

Copyright Linda Walcroft 2006