1863: After the Battle of Brandy Station, Lee continued to move north toward Pennsylvania. He was using the mountains of Virginia to shield the movements of his army and headed in the direction of Winchester.
Winchester was occupied that spring by Union troops under General Milroy, whose high-handed treatment of the local citizens earned him their deep resentment. In order to pass through Winchester, the Confederates had to drive out Milroy's army. This task fell to General Richard Ewell, who organized a three-prong attack to be executed by Rodes, Johnson, and Early.
Click on a photo to see a larger version
| | |
| --- | --- |
| page 1 of 2 | |
Students met at a mall parking lot for orientation and tour maps.
One of Milroy's Forts was on Bower's Hill, now the location of Handley High School
We traced Early's eight-mile trip
Along Little North Mountain
Looking toward West Fort
We took a rest stop at this farm market
NEXT: More pictures of the Winchester Area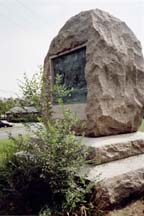 Photos taken by Linda Walcroft except for "Pumpkin Queen" taken by Arch, September 2004

Comments?

| Gettysburg Campaign
Return to top of Page