Why I Study the Civil War
I grew up in Virginia, a beautiful state where memories of the American Civil War practically seep from the soil. My parents were from the Midwest and moved to Virginia following World War II. On local trips with them, I became familiar with Civil War sites like Bull Run Battlefield. Many of these sites are beautiful and peaceful places today, in stark contrast to their bloody past. I was intrigued by these places and their dramatic stories.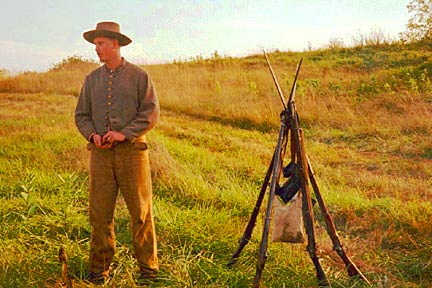 To me, the most fascinating things about the Civil War are not the dates or names of generals, but rather the questions that are hard for me to answer fully:
WHY did this tragic war happen? How did it get so far out of control?
What brought men by the thousands into this bloody conflict? Why did they leave their families, their homes, the lives they had built, to travel far away and risk all? Why did men who never owned slaves give their lives for a slave-holding confederacy?
Why do people still feel so strongly about this war? How did it become almost mythical? How does it effect our lives today?
How could the terrible practice of enslavement have been accepted so recently in our history? Was bloodshed the only way to end this institution? What can we gain from understanding the racial wrongs of the 1860's?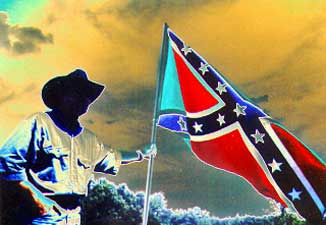 In addition to pondering these questions and hearing interesting stories from the Civil War, visiting Civil War sites offers a feeling for geography and a respect (often awestruck wonder) for the soldiers who had to battle natural barriers and weather as well as the enemy army. Over and over I am struck by the beauty of the landscape and the contasting vision of huge armies traveling over the terrain.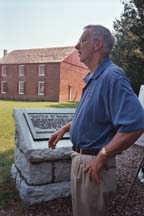 My professor, Charles Poland, is an experienced teacher whose passion for history shows in his dedication to exploring and sharing the stories of the Civil War. His wife Betty helps with logistics and making sure everyone is comfortable. Many of my classmates have taken multiple semesters of the course, and some have considerable knowledge of the Civil War. Although the day-long trips are sometimes exhausting, I thoroughly enjoy them. There is excitement in following back roads that you would not discover in daily life, and pleasure in meeting a group of friends in a historic setting to hear a true story from long ago.
"One of my objectives is to take you to as many remote locations as possible."
- Dr. Poland